differences between UI and UX, There are mainly two terms in development, one is UI, and the other is UX. You may have overheard these terms if you or your work is related to the development but have you ever tried to understand what they both mean and how they differ from each other? If you are one of those who wanted to understand the UI & UX difference then you have surely come to the right place.
We have closely elaborated on points and made this article easy to understand for users.
The conversations are overheard and we have repeatedly listened to what UI is and what UX is. The UX of this website is great but UI is not that much appealing and other similar conversations may have hit your ear but have you ever thought that how they differ from each other.
What are the differences between UI and UX?
The three primary differences between UX and UI designers are: UX deals with the purpose and functionality of the product. UI deals with the quality of the interaction that the end-user has with the product. UI design has an artistic component as it relates to the design and interface with the product
Note down the difference between UX & UI
Before jotting down the differences, let's understand what UX and UI refer to and what are some of their common points.
Also, Read: Motion UI – The next Big Design Thing
UX & UX Design:- UX short form of 'User Experience' refers to how the customer is experiencing the product or the website/applications they are using. According to a statement given by a popular scientist, Don Norman, in the late 1990s,
"User experience encompasses all aspects of the end-users interaction with the company, its services, and its products."
The definition given by Don Norman shows a basic definition of what UX (user experience) is but it has no reference to technical answers or it does not imply what designers do. Just like any other work, it is almost impossible to define UX in a few words.
But taking Don Norman's statement into consideration, UX is everything that an end-user interacts with. Along with the product, services, everything that the user interacts or goes through, each aspect of it is named under 'User Experience'.
Defining it in short, anything that a user interacts with is a part of user experience whether it is a website, applications, or any other digital product. Similarly, UX designers work on making the element fit, shaping the best experience for the user.
Let me make it easy for you with an example.
Suppose you have landed on a checkout process of an ecommerce website (Flipkart, Amazon and many more) and find it easy then it is an example of good user experience whereas hassles check out process makes you run into trouble hence becomes a bad experience. So, the design of the product has to be built keeping the user's experience and convenience in mind. This is how the design is related to experience.
There are many other examples too like was it easy for you to add products in basket, how easy was it to log in to a site, how easy was a check out process and etc.
So, making a pleasant user experience for customers is what we can define as a 'user experience design.
Below is a breakdown of UX & UX design that we have tried to cover in short.
The overall feel of the user about the product or service is user experience.
How a product or company is interacting with customers- This is what user experience means.
UI & UI Design:- Unlike UX, which focuses on the experience of a customer to the product and service, UI refers to the look, feel, and interactivity of a product/web services. However, people often confuse while differentiating what UX & UI is. Different people interpret it in different patterns and are usually confused by thinking that UI designers are equal or the same as graphic designers, which is nothing but more than a misconception.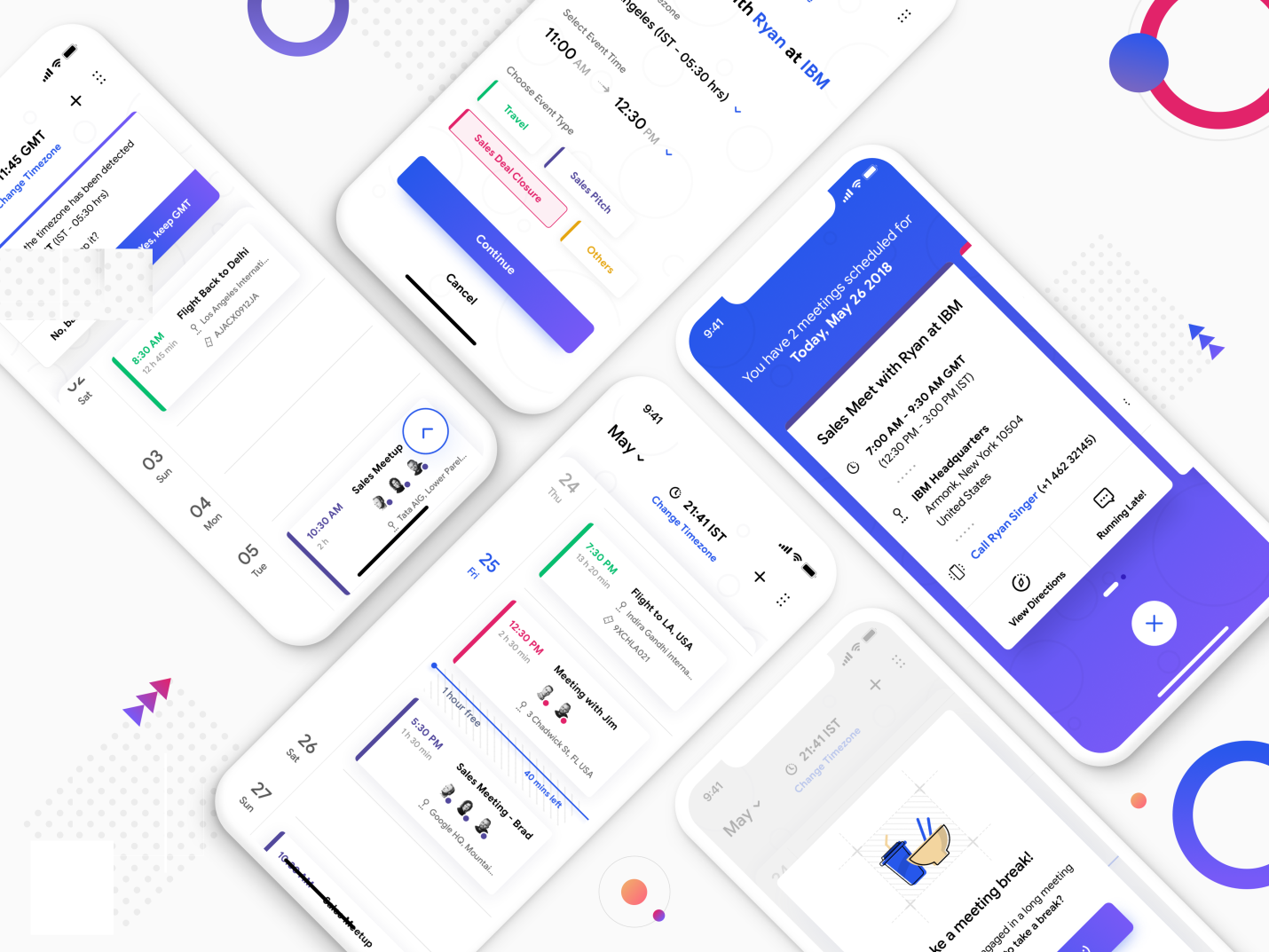 It is more like working on the point of interaction a user and product/service has. When it comes to websites and applications, the website's look, feel and interactivity comes under the user interface. So, the main role of a UI designer is to make the product or web service as intuitive as possible. You will see them working on the website or application's buttons, icons, typography, and colors. These are some of the main points they work on. It is purely a digital practice that works around designing or creating elements that users interact with. Buttons and icons are a few examples of it.
Below we have written on these points straightly.
The basic core of user interface design is to work on visual and interactive elements. Like if it is a web application then designing buttons, icons and a home tab is what a UI designer should do.
The motive or goal of a user interface designer is to design a product in such a way so that the user does not have to think much about reaching a particular page. The interface has to be designed in such a way that a user can have an intuitive experience.
Last but not least UI design is meant to showcase brand strength by making its product's user interface by keeping its design best and view pleasing.
These are the points that precisely cover what UI is and how User interface design is different from UX design.
To understand it in-depth, you can continue reading. Below given points are listed after making a final collection of the differences suggested by UI & UX professionals. What are the differences between UI and UX?
What does a UI Designer do?
Are you into creating the best user experience and you like visualization then UI designing is the right fit for you? If you are much into customer analysis, research & design, branding & graphic then UI design is the right fit for you.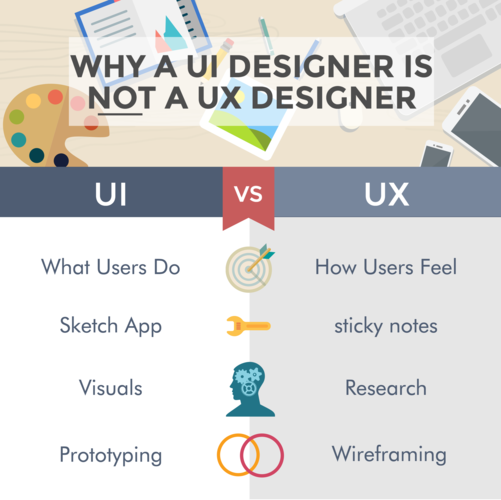 The role of a UI designer is more than a designing interface as they play a crucial role in digital interfaces which in some way is a proven fact and a key to shoot a brand to the stars.
Soft Skills required for UI designers are collaboration, communication, and open-mindedness. You need to be creative and problem-solving and your work should empathize.
When it comes to hard skills, then visual branding skills, wireframing, prototyping, and a few skills added to it.
What does a UX designer do?
A UX designer is responsible for making interfaces and ensuring the overall experience of a user for any product. You can also understand the role of UX designers by going through their tasks and responsibilities as they include analyzing competitors, researching users & what they like, and what they want after every step, product structure, development and etc.
The role of a UX designer is not just limited to designing interfaces and features as it is diverse to analyzing, testing, and many more. The ultimate aim of the business is to make its interface so easy and intuitive that users love to visit and explore. The process encompasses analyzing, testing & iteration, and a few more complex tasks.
The soft skills required for UX designing are almost 90% similar to UI designing however a UX designer must possess critical thinking and problem-solving skills which makes it different from UI designing.
Which is better UX or UI?
UX is a highly analytical and logical thing. UX designers need to think from the user's perspective and it's more about the understanding user. … If you love to design the product, love to decide the overall layout, size, color animation part and present that with your creative thought process then UI is better for you.
UI Design vs UX design:- Which one is a better fit?

A better fit depends upon how the industry is growing and what technologies are adopting day by day. Based on these factors, the career path can be decided. However, if it is just about a better payout then there are several more factors that are responsible for it. They are like:-
Location:- Typically, the location and the need there decides and makes the salary bar. Different locations will have different salary bars.
Experience:- The more knowledge and experience you will have, the more money you will have. It is a proven fact and there is no scope of discussion on it.
Industry:- Depending upon the type of industry you are dealing in, the salary will differ. If the industry is vast then the salary will touch heights and if it is low or medium, the bar will remain in the middle.
Project/product type:- No matter whether it is UI design or UX, your project and product type matter a lot. If the demand for the product/project is high, the salary bar will remain high but keep in mind that the expertise, knowledge, and skills required to design that product should also match the best industry standard.
Final Words
Both UI & UX are a bit similar to each other and understanding their components is vital if you are into designing. Depending on your creativity, skills, and interest, you can choose your job profile, and most importantly, the payout to both of these profiles depends upon your creativity, knowledge, experience, and expertise.
However, we hope now we have made your misconception a bit clear and you have well-understood the difference between UI (user interface) and UX (user experience). With this, we are wrapping our article now.
If you like this article then do share it with your community's buddies and help them understand this topic. Also, we will see your sharing work as a gesture and thumb of like. Further, we will cover such posts in the future too and enlighten you on different topics. To know more, stay tuned to us.